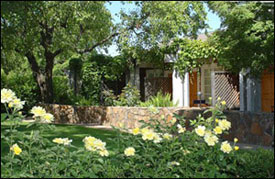 Napa Valley Lodging
Petit Logis Inn offers just what the name promises; our inn is a small, cozy place to stay, offering all the charm of a country inn. We are located in the quaint town of Yountville, California, in heart of the Napa Valley.
Each of Petit Logis' five guest rooms feature a fireplace, large bathroom with a double jacuzzi tub, refrigerator, telephone, television, and wireless internet access. The interior decor varies from room to room, from a 4-poster bed with a bay window looking onto town, to an acorn and pine bed facing a trompe l'oeil wall mural. Each inviting sleeping area and unique bathroom combines old world European wall textures with state-of-the-art design.

Jay, Judith and Michael Caldwell sincerely welcome you to their Napa Valley, Petit Logis Inn.

Petit Logis Inn is also located within walking distance to the following Napa Valley restaurants:
The French Laundry, Bouchon, Bistro Jeanty, Hurley's, Bottega, and Redd
We are a non-smoking inn. Smoking is not permitted on the property. If you smoke in the room you will be charged a $200 cleaning fee.
Availability and Booking Disclosure:
Second party booking services can be misleading and do not display an accurate representation of my available rooms. I only give them a few rooms to sell. It is always better to contact us directly either through the contact page or call us directly at 707-944-2332.
Thank you, Jay
Customer Review from Yelp.com-
I would definitely recommend Petit Logis to travelers seeking well located and reasonably priced accommodations in Yountiville. The room was very clean and the bed was comfortable. The fireplace and free internet access were nice bonuses.

Petit Logis is situated downtown just behind Bouchon Bakery. You can walk to all the great restaurants and can smell the the Bakery from your room - it doesn't get much better than that! We'll be back for sure.
Customer Review from TripAdvisor.com-
I have stayed at Petit Logis several times. The quiet sophistication of the inn allows its guests to "live" in Yountville for a few days and sink into the sophisticated simplicity of Napa Valley. Each room (I have stayed in several) is decorated with a light touch--a combination of whimsy and elegance. It is easy to get an authentic feel for the this charming town because there is no fussiness to get in the way--I walk out the door, and walk to a handful of restaurants or galleries or shops.

The owners are helpful when you need them--and they appreciate and respect privacy. (The owner, having been born and raised in Napa Valley, is quite knowledgeable about wine and wineries.) I am an early riser--it is wonderful to get up early, walk for 2 minutes to Bouchon and return with my coffee to the flower enclosed patio of my room. Petit Logis is a jewel of an inn--charming, quiet, and exquisitely private.